Your smart style, everyday!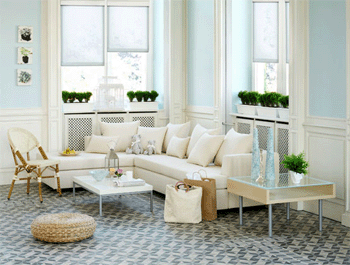 Nothing is as predictable as the rise and fall of the sun and moon. This is why our Soluna™ Roller shades are made to provide your home a designer's touch in a seamless all-in-one solution designed for everyday use. Soluna™ not only offers consistent operation over time but also provides customized light and privacy control as well as the ability to fit most windows large and small – day in, and day out.

With over 180 fabrics, including fire retardant textiles that comply with NFPA 701 safety standards, as well as both manual and motorized movement options, Soluna™ is your number one choice for premium-quality and durability in a package that can match your decor and lifestyle from contemporary to casual, and at a great value.
Fabric and Colors

Soluna™ features over 180 fabrics in a kaleidoscope of colors, textures and transparencies from Phifer, Norman Classics®, and others. With fabric openness ranging from blackout to 12% light penetration, you're in control. Plus, our Cassette and Pocket functional technology offers enhanced sophistication by cleanly concealing the fabric roll. Also look for a variety of movement systems including manual clutch options and motorization featuring Norman® Pro-Lift™ and Somfy®.
Give us a call today for a free estimate! 702-816-2500